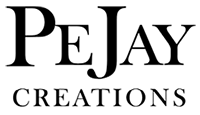 Pe Jay Creations, a 60+ year-old family-owned and operated company, was cultivated by Allan Feuer and is run today by his son, Mitchell. Pe Jay prides itself on its designs, quality of production, and, most of all, its attention to detail.
Allan Feuer started his career in the jewelry industry as a polisher for a fine quality watch manufacturing company. He built himself up with the company as a designer and salesman, and later had the opportunity to buy into another watch manufacturer known as Pe Jay. With changing times and trends, Allan gradually converted the company into a designer and manufacturer of women's 18kt. gold and platinum fashion jewelry, never forgetting Rule #1—Quality, Consistency and Service.
Today, Pe Jay offers a full line of women's diamond jewelry, including an extensive assortment of bridal jewelry, and our fashion forward use of textures and color. In addition, our custom design division allows us to create one-of-a-kind pieces based on your individual needs and desires.